Local textbook teaches children how community's founders lived
By Jane Whitledge
Staff Writer
Third graders in the Carrollton Farmers Branch school district will be hearing a new story this year - called Once Upon a Time in Farmers Branch.
But instead of princesses, dragons and frogs - they will be learning about Indians who lived in the area and about pioneer ways.
The Heritage Education Committee, which that grew out of the Farmers Branch Historical Preservation and Restoration board and Historical Park volunteers, began putting together an educational program for area third-grade students almost a year ago.
The local history program, which includes a guidebook for teachers, demonstrations in the classroom and field trips, is designed to help students grasp the background of their community.
"Once Upon a Time in Farmers Branch is as complete as we could get it," said Frances Glancy, a docent at the Historical Park and chairman of the Heritage Education Committee.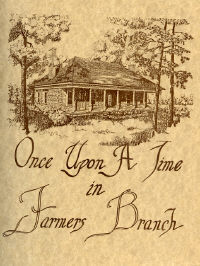 "We're also developing a video that can be used by teachers in the classroom," Glancy said.
Glancy said the committee hopes the book helps teach history and "helps the child develop a true love of history, when they see how they lived years ago."
Sections of the history book include information on folk dances, play parties, pie suppers, quilting, clearing land, authentic farm dinners, churning butter, making lye soap, hog killing and clothing and furniture of the day.
Live demonstrations that have been designed for the classroom include a class on how pioneers learned penmanship - something third graders can relate to because they are learning to go from printing to cursive lettering, Glancy said. The program includes copies of old handwriting in ledgers and documents, an ink well, pens and a writing slate. A fountain pen is included in this lesson, as that artifact is historical to today's children.
Another live demonstration features a costumed character, Sarah Keenan, firs woman settler in Farmers Branch. The volunteer actor portrays Keenan for students, telling them what poineer wies and mothers did in their everyday lives.
The third demonstration is on early kitchens, teaching children about the days before running water and dishwashers.
Classes make the trip to the Historical Park will get a personal look at how life in Farmers Branch may have once been.
Barbara Caffey of the Carrollton-Farmers Branch Independent school district says there was a real need for this program in the schools. Teachers had access to many historical pamphlets and books that dealt with this area, but nothing that had combined information from every sector into one book.
Third grade is when students begin to learn about their world as a community. The school district never expected the committee to develop such a thorough educational tool, Caffey said.
"We thought we would be lucky to get a list of the key settlers and a paragraph about each one and maybe some references." she said. "We were very pleasantly surprised."
Caffey noted that te demonstrations for the classrooms are important because field trips are so expensive these days and kept children out of the classroom.
"There was no way we could have adopted a textbook published on the national level that meet this need." she said.
Carrollton Chronicle; Wednesday, September 13, 1989