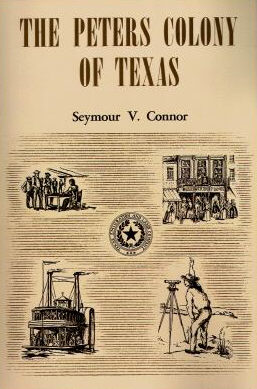 Copies of the reprinted version can be purchased thru the Collin County Historical Museum
This is a soft-cover 2005 reprint of the book last published in 1959 by the Texas State Historical Association
Since the Peters Colony was the first and largest empresario grant made by the Republic of Texas, there is necessarily contained in this book a substantial account of the land policy of the Republic. Included are the background and results of the significant Law of February 4, 1841, which authorized the establishment of a contract between twenty American and English petitioners, led by Willliam Smalling Peters, and the Republic of Texas. The area of the grant was greatly increased by 3 later contracts to cover all or part of 26 present North Texas counties with the principal settlements being made in present Grayson, Collin, Denton, Tarrant and Dallas counties.
A split in the company resulted in the American stockholders' re-organizing as the Texas Immigration and land Company in 1844. The venture was plagued by further misunderstanding and controversy which climaxed in the Hedgecoxe War of 1852.
Though the enterprise was not considered to be a monetary success by either the investors or the Republic, it initiated a stream of migration from the Ohio River Valley to North Texas which continued for several decades. Biographical sketches of the colonists give further valuable data on early settlement of this North Texas area.
Peters Colony included the following present-day counties: Wilbarger, Baylor, Throckmorton, Shackeford, Stephens, Jack, Wichita, Archer, Collin, Cooke, Dallas, Denton, Ellis, Grayson, Johnson, Tarrant, Wise, Montague, Parker and Palo Pinto.
"This is the best study of one of the largest land grants in Texas history, totalling 16,000 square miles of North Texas, an area now including some 26 counties and one-fourth of the Texas population. The volume is a masterpiece of weaving together the threads of an extremely difficult historical puzzle with only the meagerest of source materials. Herbert Gambrell called it a 'fine example of the use of research tools' and Ray Allen Billington said it 'not only tells the story of a principal colonizing venture, but uses mass data to reveal the nature of the typical Texas pioneer' in the colony."
- John H. Jenkins, in Basic Texas Books
The book is divided into 2 parts with :
Part 1- A History of the Colony
Part 2 - Biographical Sketches of the Colonists