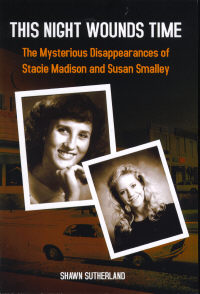 Book prompts renewed look at unsolved 1988 disappearances of 2 Carrollton teens

07:31 AM CDT on Tuesday, July 6, 2010
By JON NIELSEN / The Dallas Morning News
jnielsen@dallasnews.com

The poster is from another generation.

A dozen tiny pinpricks above the words "MISSING PERSONS" mark where the flier has been tacked and retacked onto a bulletin board in the Carrollton Police Department lobby.


Susan Renee Smalley Below the block text pounded out on an old typewriter are pictures of the two teens missing since 1988.

Stacie Madison and Susan Renee Smalley stare back from their senior class photos. Their smiles, frozen in time, express youthful optimism.

Thousands of Carrollton residents remember the days and weeks after the teens vanished. They remember the posters scattered about the city and in the windows of businesses up and down Forest Lane, a popular teen hangout where the girls disappeared.

Time passed. The headlines subsided. As Carrollton grew, the memory faded until a full-time paralegal decided to write a book that reignited the investigation.


'Tell their story'

The case invaded Shawn Sutherland's sleep.


Sutherland, who was 24 in 1988 and had grown up in Carrollton, was haunted for years by the girls' disappearance.

Then, one night last year, Sutherland awakened with this phrase racing through his mind: "Tell their story."


Stacie Madison Sutherland, now 46, spent much of his free time studying and writing articles about cults. After his epiphany last spring, he put a project about a California cult leader on hold so that he could write the tale of the missing teens. He called the book he self-published last fall This Night Wounds Time: The Mysterious Disappearances of Stacie Madison and Susan Smalley.

Carrollton police had never closed the case. It sat inactive, like a jigsaw puzzle missing pieces, until Sutherland wrote his book.

"I was thinking I was going to write a book that maybe stirred citizens up. ... Maybe that would force police to do something," Sutherland said.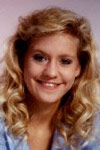 2 months from graduation

Stacie, 17, and Susan, 18, set to graduate in two months from Carrollton Newman Smith High School, were determined to make the last night of spring break count. They planned a sleepover at Susan's place and were determined to find a good party. It was March 19, 1988.

Stacie had endured the SAT earlier that Saturday and was waiting at home for Susan to drop by. Ida Madison, Stacie's mother, permed her daughter's shoulder-length blond hair as they waited.

After Susan arrived, the teens pranced out the front door to Stacie's pristine yellow 1967 Mustang convertible. As they headed to the car, Ida reminded them about her midnight curfew.

"How will you know we'll be in?" Susan joked.

"You never know when I'll call," Ida said.

The girls planned nothing that night. In typical teenage fashion, they wandered around town. They went to the mall, dropped by Susan's house, and then went to a friend's party in Arlington. They didn't stay at the apartment long, left about 10 p.m. and returned to Susan's house in Carrollton. They called the Arlington apartment again at 12:01 a.m.

Between 12:30 and 1 a.m., they went to a Steak and Ale restaurant in Addison where Susan worked. Susan talked to a boy whom she wanted to date, and then the girls left in the Mustang, the convertible top down.

It was the last time they were seen alive.

Police discovered Stacie's car at Webb Chapel Road and Forest Lane the following Tuesday. The doors were locked, the convertible top fastened shut. It was about 45 degrees the morning of their disappearance, but the girls' jackets were found on the car's floorboard on top of Stacie's boombox.

The girls' families never thought that the teens would have run away. Susan's mother is sure something sinister happened that morning.

"There's a chance they might walk through the door. In your mind you think that might happen," said Carol Audett, Susan's mother. "But I know my daughter. She wouldn't have just left."


A fresh start

Sutherland began working on the book in April 2009. After his daylong shifts as a patent law paralegal in a downtown Dallas high-rise, he stayed up as late as 2 a.m. pecking the pages out on his keyboard in his Richardson home.

Sutherland, who has a stubbly salt-and-pepper beard and an arch of baldness across his head, binged on sandwiches and Pop-Tarts. The diet added about 20 pounds to his already husky frame.

For nearly eight months he wrote, researched and interviewed everyone from the original case detectives to the girls' high school teachers.

The book didn't reveal new details about that night in 1988, but it came at a time when Carrollton police were re-examining cold cases. His efforts prompted investigators to take a closer look.

"What this book did was push the full reset button," said Carrollton police Sgt. Joel Payne. "We threw out all the assumptions, and we started from scratch."

The department and Payne, the lead detective, are throwing new resources into the case. The Denton County district attorney's office also assigned an investigator after learning of a connection in its county.

With the case revived, investigators are re-examining theories dismissed long ago. There's a heightened urgency to get anyone with information about the case to come forward.

"Somebody knows something out there. Good, bad, rumor, we don't care. We just need to put some pieces together," said Denton County investigator Jerry Pomposelli.

Some who have remained silent for 22 years are providing information about the night the girls disappeared. Detectives won't reveal what that information is, but they say it's credible.

Payne said they need more.

"What I need is something somebody's been holding on to for 22 years," Payne said.


Questioning of boyfriend

Sutherland's book builds toward a climax when he introduces Stacie's boyfriend at the time as a possible suspect.

The author agreed not to name the boyfriend in the book. But authorities had questioned him in the case about 90 days after the girls disappeared.

At the time, theories on what happened to the girls abounded: They were kidnapped by a cult and forced to live as prostitutes in Mexico. They left on a joyride to South Padre Island. Or cross-country truckers picked them up.

Those were possible but unlikely scenarios, Payne said.

But then a woman whom Stacie's former boyfriend was dating told authorities he had admitted to the killings. According to the girlfriend, he told her he had killed Stacie and Susan with a shovel and buried their bodies in a cemetery near State Highway 121 and Fish Hatchery Road in Denton County.

It was the biggest lead police had received.

Police grilled him extensively and searched the cemetery. But he passed a polygraph test, and the search revealed nothing. They let him go.

To this day, there have been no arrests.

Stacie's former boyfriend has since moved out of Texas, changed his last name and been married at least four times. One of his wives filed for a restraining order against him in 1993 after he allegedly threatened her with a knife. They've since divorced.

Investigators have not labeled him a suspect in the case. He could not be reached for comment.


Looking for answers

Ida Madison has kept close watch over the police investigation. She insists that she be provided the latest updates. She closely watches evening newscasts. Whenever area authorities find bodies or bones, she imagines they're her daughter's and presses Carrollton detectives to investigate.

But Madison has never found the answers she's looking for.

She hopes that someone with answers will help police solve this case.

"I do believe there are people who know," she said. "I also know that the next 22 years could go on just like the last 22 have: knowing nothing."

At 65, she said, she may not have another 22 years to wait.