---
Georgia Emma (Myers) Ogle
Carrollton & Farmers Branch
TXGenWeb
---
Home > People > O > Georgia Emma (Myers) Ogle
---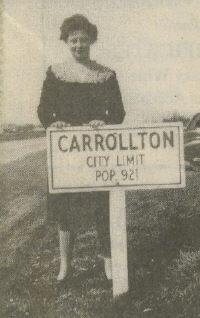 Georgia Myers Ogle
1948 Lion's Roar
Carrollton High School
Carrollton, Dallas Co., Texas
Faculty

DEDICATION
Mrs. Ogle, in deep appreciation of the many services that you have rendered and because of your loyalty and services to Carrollton High School, we, the Staff of the Lion's Roar, dedicate this edition of the yearbook to you. This is too small for us to do in your honor, yet it is a little way in which all of us may have a share.
Thank you, Mrs. Ogle, for what you have done for Carrollton High School
TRIBUTE TO FOUNDING PRESIDENT
by Virginia Bramblitt Owens

Pioneer family daughter, homemaker, historian, writer, lecturer, high school English teacher, destined to be "special" in her community! On Monday, April 28, 1913 a little girl was born to George William and Sarah Shelton (Sallie) Myers and they would call her Georgia. She was named for Grandfather George Franklin Myers, Great Uncle George Fyke, and Great Aunt Emma Kennedy Jackson. Her forbearers (Myers, Fyke, Kennedy and Perry families) were all in the local area before 1850.
Her Great-great-Grandfather David Myers organized the oldest Baptist church in continual existence in Dallas County, now Highland Baptist Church of Carrollton, on May 10, 1846. Georgia says that one of her greatest joys was serving as Church Clerk and recording minutes in a beautiful old leather-bound ledger in which her paternal Great-Grandfather John Miller Myers and her maternal Grandfather, W. D. Fyke has also made entries.
She was married to H. Ray Ogle, son of the late Mr. and Mrs.. C. B. Ogle, in a ceremony at the First Baptist Church, Carrollton on April 6, 1939, with Rev. Preston Taylor presiding. Georgia and Ray have no children but boast of eleven nieces and nephews, eleven great nieces and nephews (always expecting one more) and a host of ex-students who all seem like their own children and of whom parents could not be prouder!
Leadership, inborn from preceding generations, have been the mantle falling to Georgia Ogle. She was unanimously elected charter president of Peters Colony Historical Society. When the Bicentennial Committee was elected to plan activities for the community, she was asked to write the history of Farmers Branch and Carrollton. Her book entitled ELM FORK SETTLEMENTS was published in 1977. She spent 36 years teaching English and journalism at the local high school, from which she had graduated in 1929 in a class of nine girls only, six of whom became school teachers. Her bachelor and masters degrees were earned from Texas Woman's University in Denton.
In her ten year history, Peters Colony Historical Society has looked to Georgia for many contributions to the official publication: ELM FORK ECHOES. She was responsible for the reprinting of George Jackson's SIXTY YEARS IN TEXAS. She cooperated with others in researching and preparing materials to secure a State Marker for Highland Baptist Church, a City Marker for Pioneer Park and provided the research and secured the State Marker at Perry Cemetery and the City Marker at Pioneer Park for Volunteer Firemen, all located in the city of Carrollton. She suggested to the Carrollton-Farmers Branch School Board that a new gymnasium at Perry Junior High be named Harriet Perry Warner and it was. She secured the brass plate for the cornerstone monument at the same school.
Georgia's hobbies are reading, genealogy, local history, travel, handwork, birding and family celebrations. Her husband of 42 years encourages and stands by her side in any project to which she devotes her energies. She has been very active in the work at the A. W. Perry Homestead Museum and frequently can be found serving as a docent there. She received the first Adult Life Membership in Peters Colony Historical Society from ex-students who were members of the Society.
Every community needs a "special" person like Georgia Ogle, to whom they can turn for unselfish devotion until a project is completed. To know her is to admire and love her. She has given her talents and abilities for the growth and development of others throughout her professional career and continues to lecture, write study and use her time for family and friends in her retirement. She is a great lady! In only one lifetime, she has made and continues to make a unique contribution to the people of this community.
Elm Fork Echoes - The Peters Colony Historical Society of Dallas County, Texas. Vol. 9 No. 2, April 1981
OBITUARY

OGLE
Georgia Myers, 76, a lifetime resident of this community, passed away December 6, 1989 at St. Paul Hospital, Dallas. Born April 28, 1913 in Carrollton, daughter of the late G. W. and Sallie Fyke Myers. Georgia was a descendent of the pioneer families of Myers, Kennedy, Fyke and Perry. She retired in 1971 after 36 years as an English teacher in the Carrollton-Farmers Branch I.S.D. She was a member of the 1st Baptist Church in Carrollton. She is survived by her husband, Ray Ogle, of Carrollton, whom she married April 6, 1939; sister, Thelma Myers McKinney; sister and brother-in-law, Donnie Myers and Esther Ogle, both of Carrollton; several nieces, nephews and many other relatives and friends. Services: Friday, December 8, 1989, 3:00 P.M. RHOTON CHAPEL. Interment, Hilltop Memorial Park, Carrollton, Pallbearers: M.C. Kirkham and members of Al Bowman's Sunday School Class. Memorials may be made to American Heart Assn, Annie Armstrong Missions, or charity of your choice.
RHOTON FUNERAL HOME
I-35 at Crosby Rd. Carrollton

Submitted by Edward Lynn Williams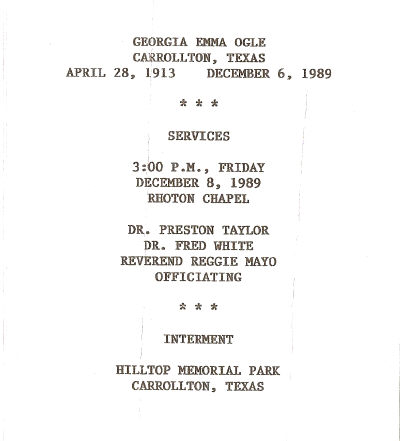 GEORGIA EMMA OGLE
CARROLLTON, TEXAS
APRIL 28, 1913 DECEMBER 6, 1989
***
SERVICES
3:00 P.M., FRIDAY
DECEMBER 8, 1989
RHOTON CHAPEL
DR. PRESTON TAYLOR
DR. FRED WHITE
REVEREND REGGIE MAYO
OFFICIATING
***
INTERMENT
HILLTOP MEMORIAL PARK
CARROLLTON, TEXAS

Funeral Program submitted by Betty Lou (Stanley) Dennis
OGLE
H. RAY - Sep 27, 1913 - Apr 27, 2004
GEORGIA MYERS - Apr 28, 1913 - Dec 6, 1989
Married Apr 6, 1939
Hilltop Memorial Park, Carrollton, Dallas County, Texas

Notes:
---

Carrollton-Farmers Branch TXGenWeb
Supported by Edward Lynn Williams
© Copyright May, 2014